Fundraising
Maximize Donor Stewardship with Instil + Classy
For organizations using Classy for fundraising, donor data can now flow seamlessly into Instil, empowering your team to supercharge donor stewardship.
---
Strong donor relationships are built on a myriad of small interactions which show donors that their unique contributions to the cause are seen and appreciated. While it might sound simple, we all know how complicated it can become when your nonprofit has an entire community of dedicated supporters (and limited staff).

Instil is built to harness the power of modern technology to unlock the potential of nonprofits of all sizes to cultivate strong, personal relationships at scale, and those relationships start with access to the holistic information needed for effective and impactful interactions with donors, in the palm of your hand.
That's why we're thrilled to announce the launch of our integration with Classy. For organizations using Classy as their fundraising platform, donor data can now flow seamlessly into Instil, supporting centralized supporter relationship management and equipping your team with the holistic data needed to optimize interactions and cultivate lasting relationships.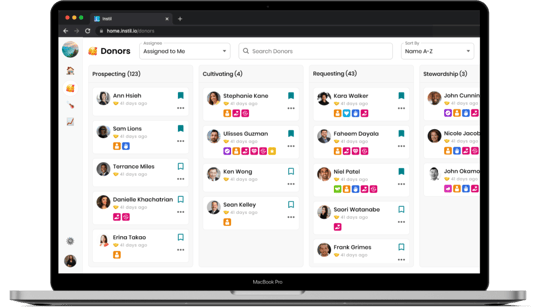 When the Classy integration is turned on in Instil, donations processed through Classy will automatically appear on the supporter Activity Feed and on individual supporter profiles, providing instant insight and a holistic historical record of your supporters contributions to the organization. To turn the integration on, simply navigate to the integrations tab on the navigation bar and follow the instructions on the screen.
For organizations using Classy as their fundraising platform, Instil's integration with Classy empowers you to supercharge your donor cultivation and stewardship efforts in multiple ways:
Get Instant Updates On Donor Activity
Instil's social media-inspired Activity Feed gives you instant insight into interactions between supporters and your organization. Through our integration with Classy, donation data automatically flows into Instil, making it easier than ever for you to get an up-to-date look at who is contributing to your work. Scroll through your feed daily to see how many donations have come in and which donors to reach out and thank.
Steward Donors For Increased Retention
Strong donor stewardship ensures that donors keep coming back to give every year and boosts your chances of upgraded gifts. With donors from Classy automatically captured in Instil, take advantage of our visual and intuitive Donor Management Board to move supporters through the stages of the donor journey and easily track your team's outreach efforts.
Manage Holistic Supporter Data
Many of your donors aren't just donors, they're dedicated members of your team. Whether they're volunteering, bringing in their friends and family to the cause, or serving in another role, Instil makes it easy to track holistic, multifaceted support and acknowledge your biggest supporters for all of the ways they contribute.

Interested in using Instil to manage relationships with your donors and supporters? Let us show you what a new kind of nonprofit technology can do.